Recent Posts
1
« Last post by bryanc on Today at 02:45:55 PM »
.
2
Mostly cloudy, warm plus 4°C and light winds at 18 km/h and a chance of rain. Spring like weather.

We're still under a freezing rain warning. The temperature is forecast to fall this afternoon and into this evening to -3°C with ice pellets and four or more hours of freezing rain according to Environment Canada's warning criteria.

So always something to look forward to I suppose.
3
BY USMAN QURESHI
Microsoft has today announced on its official blog that starting Tuesday, February 20th, support for all push notifications for Windows Phone 7.5 and Windows Phone 8.0 will be discontinued, as the two Windows Phone versions have now reached their end of support dates, Engadget is reporting. Microsoft says other services for these versions will also be discontinued over time.
https://answers.microsoft.com/en-us/mobiledevices/forum/mdwindows-mdsettings-mdversionwp8/mobile-push-notification-services-are-ending-for/912395fa-9f1d-4390-a4de-7cb03ae3c933?tduid=(41a082692df070fd7836168eab729aa8)(256380)(2459594)(je6NUbpObpQ-yDsok2rYf1e2e8DaRnYbmw)()&auth=1#cw?ranMID=24542&ranEAID=je6NUbpObpQ&ranSiteID=je6NUbpObpQ-yDsok2rYf1e2e8DaRnYbmw
According to the announcement however, notification services will continue to function for Windows Phone 8.1, as well as newer phones running Windows 10 Mobile continue to be fully supported. For Windows Phone 7.5 and 8.0 users, live tiles will no longer be updated and the find my phone feature will also stop working.
On February 20, 2018, Mobile Push Notification services will be turned off for Windows Phone 7.5 and Windows Phone 8.0.

Once this happens:

Your phone will no longer receive notifications.
Your phone will not receive additional live tile updates.
The "Find my phone" feature will no longer locate your phone.
For more information check out the Windows Phone 7 FAQs here.
https://support.microsoft.com/en-us/help/11696/windows-phone-7?preview
Source
http://www.iphoneincanada.ca/news/push-notifications-for-windows-phone-7-8/
4
By AppleInsider Staff
Monday, February 19, 2018
As promised, Apple on Monday released revisions to iOS, macOS, watchOS and tvOS with a fix for a bug that crashes devices running earlier operating system iterations when an Indian language character is received by certain messaging apps.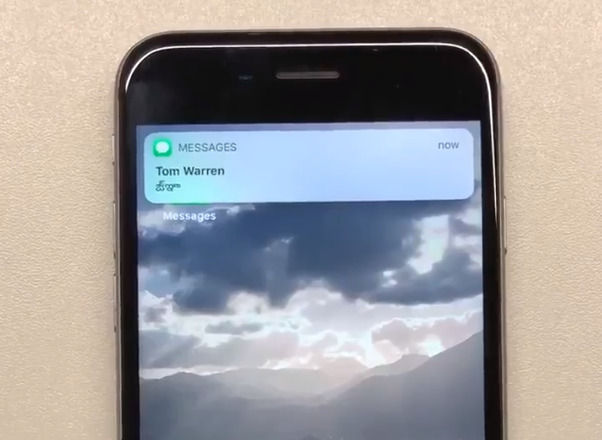 The latest iOS 11.2.6, macOS High Sierra 10.13.3, watchOS 4.2.3 and tvOS 11.2.6 updates remedy a nasty text rendering problem discovered last week.
At the time, device users who received messages containing a particular Telugu character would experience iOS Springboard and app troubles, including Apple's own Messages and Safari. Third party apps like Gmail, Outlook, WhatsApp and Facebook Messenger were also impacted, as were Twitter clients. Once received, the character triggers apps to crash and remain unusable until the offending thread is deleted.
Over the weekend, unsavory types tweeted out the Telugu character as part of an insipid prank on iPhone, Mac and Apple Watch owners. Other reports noted people were sending messages containing the text to their friends to achieve similar ends.
Apple addressed the issue last week, saying that while beta versions of iOS 11.3 and macOS 13.13.4 resolve the problem, the company intended on issuing patches as soon as possible.
In addition to the critical text rendering bug, today's iOS update fixes a bug that caused certain third-party apps to fail to connect to external accessories.
Users can download iOS 11.2.6 by navigating to the Software Update section of the Settings app, while macOS users can download macOS High Sierra 10.13.3 via the Mac App Store. The latest Apple Watch firmware can be found in the Watch iOS app under, and tvOS 11.2.6 is available from the streamer's Settings app.
Source
http://appleinsider.com/articles/18/02/19/apple-issues-ios-and-macos-updates-with-fix-for-indian-character-bug-watchos-and-tvos-bug-fixes
5
« Last post by Speckledmind on February 19, 2018, 07:34:23 PM »
I've pretty much had it with Apple devices and am jumping ship when it's time to replace things.

I'm at a point where saying " Apple is the best of two evils" isn't doing it any more, I'm also not interested in being locked into the Apple eco system, I am considering alternatives.
6
« Last post by Speckledmind on February 19, 2018, 07:14:49 PM »
lol
7
Overcast skies as the clouds thicken, plus 3°C currently. Rain in the forecast this evening and overnight.

This area is under a "Freezing Rain Warning" from EC for Tuesday afternoon and evening.
8
« Last post by Mouse on February 19, 2018, 04:40:08 PM »
Tonight Rain. Fog patches. Amount 15 to 25 mm. Temperature rising to 7 by morning.

Tomorrow Rain. Amount 5 to 10 mm. Wind southwest 30 km/h. High 14.

Overnight Rain. Amount 10 mm. Wind southwest 30 km/h. Low plus 5.
9
« Last post by Mouse on February 19, 2018, 04:33:44 PM »
"Well, not you specifically. Actually they don't give a shit about you." - Jimmy Carr.
10
« Last post by Gerk on February 19, 2018, 12:35:23 PM »
Geek translation: You MUST build apps that only work on new devices, the iOS11 SDK has little to no backwards compatibility. More forced upgrading, more fodder for lawsuits. More users jumping ship. They are also quietly EOLing the Apple Watch 1 compatibility (they mention in the same release that all apps must be built in apple watch 2 or higher target meaning they won't work on the original watch any longer).

I've pretty much had it with Apple devices and am jumping ship when it's time to replace things. Will have to try and figure out what I will be able to do with my soon-to-be obsolete $1k+ watch, I certainly won't be buying anything like that again from Apple, or any devices for that matter.